MARBLES partners UCC at the Microbiology Society Annual Meeting in Ireland

The Irish Division of the Microbiology Society gathered in Athlone from 24-25 October 2023. Microbiology in Ireland has always been strong and this year's meeting was no different, there is fantastic microbiology research happening across a diverse range of topics including in our partner University College Cork (UCC) who presented updates from their MARBLES research.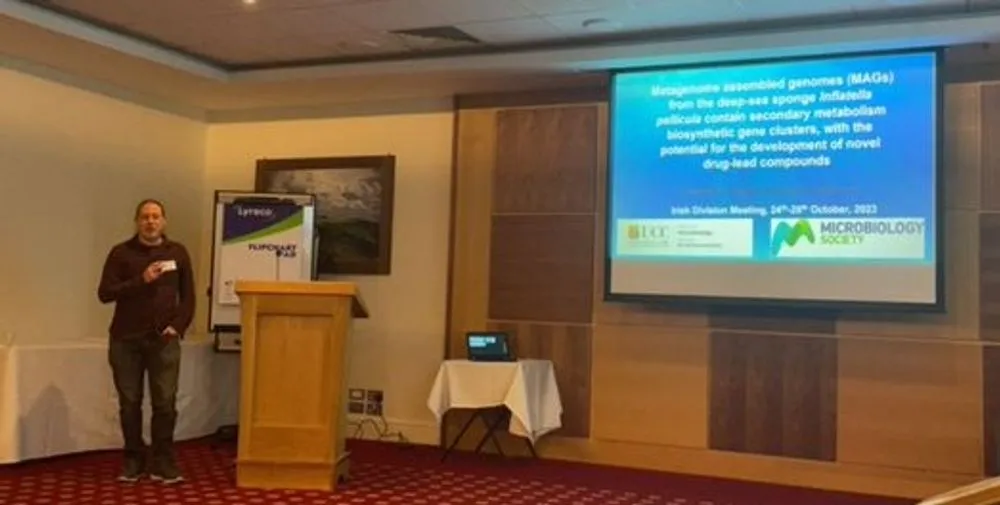 'The metagenome and derived metagenome assembled genomes from the deep-sea sponge Inflatella pellicula contain secondary metabolism biosynthetic gene clusters with the potential for the development of novel drug-lead compounds' was the title of Stephen Jackson's research talk, which he gave in the afternoon on the first day. Dense and taxonomically diverse populations of microbes, including uncultured and new taxa with the potential to produce new secondary metabolites can be found within marine sponges. These secondary metabolites are of interest to pharmacognosy, the study of medicines or crude compounds produced from natural sources such as microbes, plants and animals. Stephen and his colleagues sequenced the metagenome of the deep-sea sponge I. pellicula sampled from a depth of 2,900m. They identified gene clusters either associated with uncultured taxa or ones that were not assigned to taxa. Significantly, some clusters are very dissimilar to any known clusters. Deep-sea marine sponges are increasingly being recognised as a promising source of novel natural products. The analysis from this study indicate that the potential for the discovery of novel secondary metabolites from this sponge microbiome is high and that renewed efforts to culture the uncultivable symbionts, or to clone and heterologously express clusters from the deep-sea sponge metagenome has the potential to lead to the discovery of valuable new drug-lead compounds!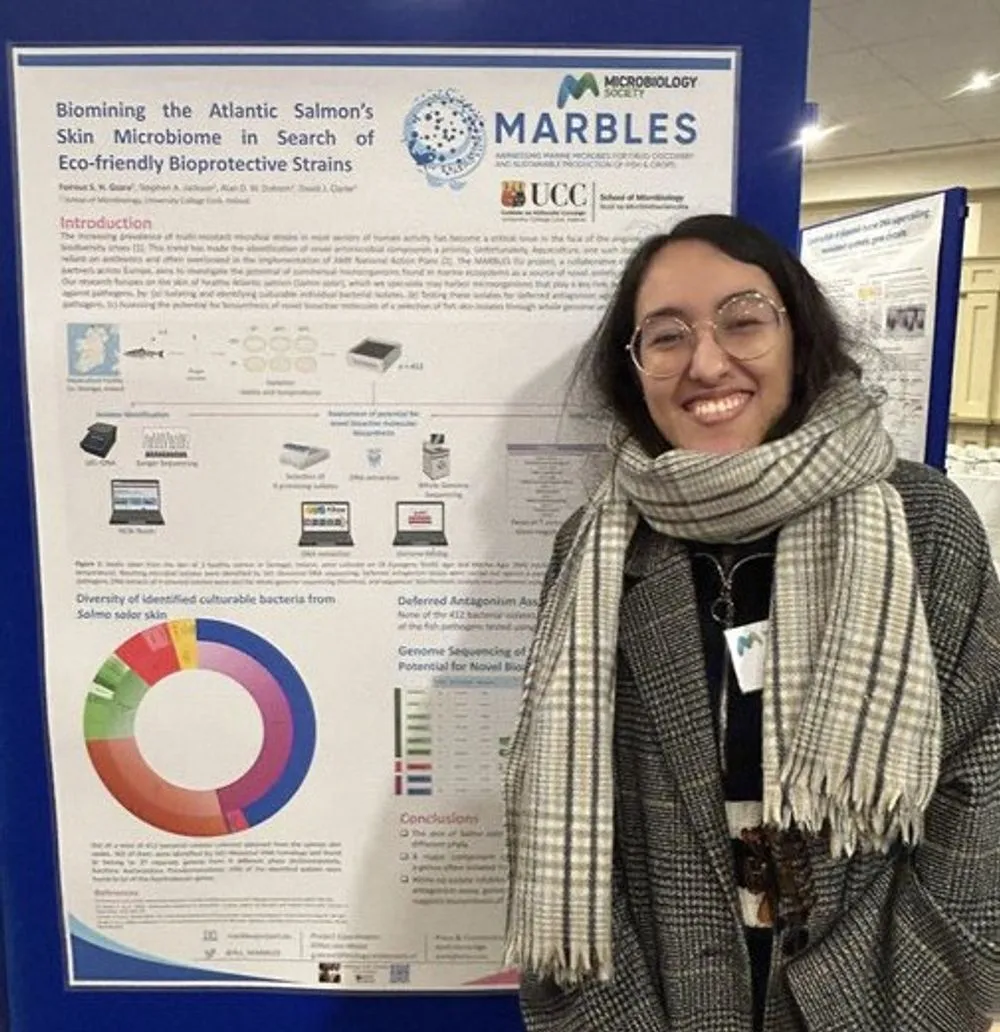 Also representing MARBLES at the meeting was UCC researcher Fairouz Gzara who presented her poster 'Biomining the Atlantic salmon's skin microbiome in search of eco-friendly bioprotective strains'. This study has taken skin swabs from salmon from three locations, an aquaculture facility in Donegal, Ireland; a river system in Mayo, Ireland and an aquaculture processing company in Northern Norway. They have sequenced the genomes of the microbial isolates to invesigate the potential of the salmon skin microbiome for the discovery of novel bioactive molecules. UCC will also employ novel cultivation approaches to mimic the natural salmon microbiome, thereby targeting culturable members from this microbiome. In doing so they will be attempting to identify microbes or microbial consortia and their metabolites that protect the salmon from fish pathogens.
Finally, a great point was made by the Organising Committee's Jerry Reen (UCC) that regardless of where you are in your microbiology career you are never invisible at a meeting of the Irish Division of the Microbiology Society and long may that continue!